We're joined by actor/sketch comedian/Hanes-appointed Grillmaster Michael Hartney as we dive into the time-twisting antics of Deadpool #11 and Amazing Spider-Man #47. How do two issues published 30 years apart relate to each other? Listen to find out! Or look it up on Wikipedia! Or listen to last week's episode! It's not a huge secret.
Warning: the contents of Deadpool #11 were hilarious enough to warrant numerous staged readings.
In addition to being a hilarious comedian, Michael Hartney is arguably the world's biggest Superman fan, and leads us into our first discussion of the Man of Steel. It's in-depth!
Deadpool v2 #11 by Joe Kelly and Pete Woods is available in digital format on Comixology or collected with Amazing Spider-Man #47 by Stan Lee and John Romita in Deadpool Classic v3, available on Amazon.
Michael Hartney performs with sketch team The Prom at the Upright Citizens Brigade Theatre in New York City on the second Monday of every month. He can also be seen in the 30 Rock episode "Idiots Are People Two!"
Music: "Money (That's What I Want)" by The Sonics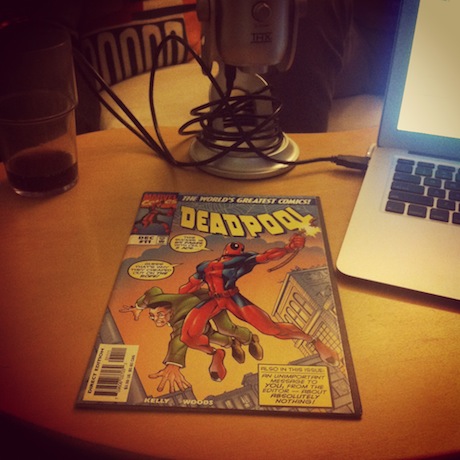 You should subscribe on iTunes here.
Listen Now
Airdate 17 September 2012
Duration 1:12:54